Generator Service, Repairs and Sales
Seatech Marine has the biggest team of factory trained marine mechanics on the Gold Coast. As Authorized Dealers for KOHLER, ONAN & CATERPILLAR Generators, we have specialised diagnostic equipment to ensure that any hidden problems are detected and rectified in the workshop rather than in the water.
Generators ensure that you have adequate and efficient power for your vessel. As a salt water cooled marine engine, marine generators require the same level of maintenance as your main engines. For your peace of mind, we provide a warranty on all genuine parts fitted by our qualified technicians.
Why Annual Generator Servicing is Important even if you Do Not Use Your Boat?
Generators are often the forgotten child on boats but actually require the same maintenance as the main engines for trouble free power generation. During most services we find that anodes, which are designed to deteriorate before the expensive componentry, are past their use by date and corrosion has already attacked the engine. This can be expensive to repair/replace and preventative maintenance is always your cheapest option.
Generator should be installed by a trained dealer to attract warranty cover and ensure efficient operation and lack of damage to the unit. Incorrect installation has to be rectified by an approved dealer.
Generators require annual maintenance, the same as the main engines for much the same reasons:
Oil becomes acidic AFTER 12 months which leads to corrosion and eventual engine failure
Impellors gain a memory  and will cavitate after long periods of non usage leading to overheating and engine damage
Corrosion occurring in raw water cooling can lead to salt water leaks over expensive componentry and possible submersion of vessel
Water contamination of fuel due to water leaks in fuel system and failure of engine componentry
Total breakdown of vessel resulting in a possibly dangerous situation at sea
Seatech Marine Guarantees its services
With our world-class premises at The Boat Works in Coomera we can tend to your boat at our secure, spacious , modern , undercover , fully equipped workshops or in our on-site marina berths. You can be assured of the highest quality of service and workmanship.
We also have  fully equipped Mobile Vans working in the Gold Coast region to bring our high level of expertise to your vessel for your convenience. Repairs are carried out at your location with a minimum of fuss and can be organised with our Operations Manager on 55 801 883.
Kohler Marine Generators

For boaters who want to make the most of their time on the water, KOHLER offers an extensive line-up of marine generators that are quiet, fuel efficient, and may even make you forget you've got a generator on board. Powerful enough to run all your electrical needs from air conditioners to navigational equipment, these generators are engineered to provide steady, reliable power to sensitive electronics such as radar, televisions and on-board computers. Automatic shutdowns protect your investment, and brushless alternators combined with rugged, full pressure lubrication engines make these generators virtually maintenance free.
Kohler offers 11 gasoline-powered units ranging from 4 to 15kW and 89 diesel units ranging from 5 to 65kW. Additionally, Kohler offers 30 commercial generators ranging from 33kW to 500kW.
Kohler's sleek styling, superior sound attenuation and unbeatable reliability, make them ideal for large, luxury yachts, work boats, or just the family weekender.
The Kohler range of generators is extensive. To discuss your specific generator needs, call our experienced staff on 55 801 883.
Onan Generators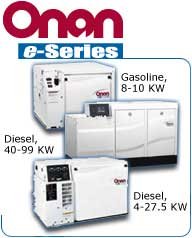 For more than 60 years, boaters have trusted ONAN to provide the dependable auxiliary power they need. The Cummins Onan brand is leading the way by offering the most innovative marine generator sets available. Onan offers 36 Models in its extensive line of innovative diesel-powered generator sets from 4 to 99 kW which give you state-of-the-art reliability and smooth, quiet operation with user-friendly diagnostic information. You'll also be backed by the largest world-wide certified distributor/dealer network in the business offering experience, innovation and customer support. Onan's self-monitoring system and flexible network communications bring you a new level of information for worry-free boating.
The ONAN range of generators is extensive. To discuss your specific generator needs, call our experienced staff on  55 801 883.