Seatech Marine is the largest company on the Gold Coast's servicing, repowering  and repairing marine engines whether they be outboard, inboard, diesel or petrol.
Seatech Marine team is highly  professional and qualified to ensure that any interaction with our team is a positive and productive experience.
Jonathon Miller – Operations & Service Manager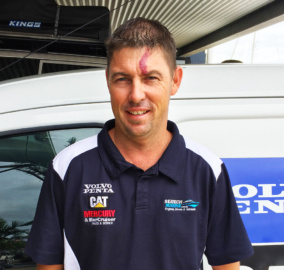 Jonathon "Jonno" Miller is a qualified Marine Mechanic with 25 years of industry experience as a business owner, service manager and marine mechanic. His business, staff and time management skills ensure customers receive efficient and accurate repairs and servicing.
Jonno is a factory trained technician for Yamaha, VOLVO and Mercruiser engines. He has a 12 Volt Electrical license and a possesses a wealth of experience in running busy workshops. He is lauded by his peers for his superior diagnostic skills and fault finding abilities. Customers find Jonno approachable and down to earth due to his outgoing personality and ability to relay technical jargon in layman's terms.
We are confident that you will enjoy your Seatech Marine experience in Jonno's professional hands. Email Jonno.
Jon Southall –  Spare Parts Manager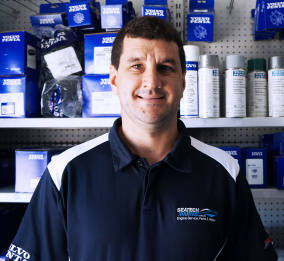 Jon is a highly experienced and accomplished Spare Parts Manager and Interpreter in heavy automotive  parts companies such as Brown & Hurley, Maxiparts and Hi-Way1 Trucks & Tractors.
His passion for all things boating is our gain as he effectively combines his professional skills with his personal passion for boats. His hobby to get his hands dirty with his own boat  has given him a highly developed knowledge of marine mechanics and he looks forward to helping you with your parts needs. Email Jon.
Nic Kitchen –  General Manager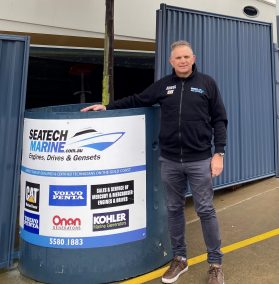 Nic has been an active participant of the Australian Boating scene for well over a decade. Prior to joining Seatech Marine he has held senior positions with Yamaha, Mercury Marine, Polaris, Mack Trucks and Volvo. He and his family are active boaters and spend any time availble out and about on the waters of South East Queensland and never miss the Interclub Bay Cruise. 
He has a passion to ensure Seatech Marine Services are the No. 1 choice for boaters in South East QLD. Email Nic.
Geoff Ferris –  Customer Experience Manager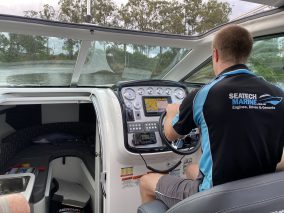 Geoff has joined the Seatech team as a passionate fisherman (not catcher-man) and handles customer enquiries and management of current and ongoing works. He joins us with extensive experience with senior roles in high level customer development roles in the banking industry prior to moving to Queensland. 
Geoff has a true passion to ensure all customers experience the Seatech Marine Services advantage.
Our Technicians –  The Heart & Soul of our team at Seatech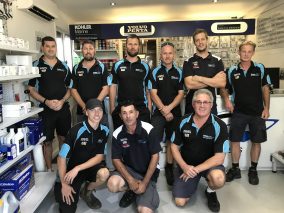 Our factory trained technicians are the most dedicated team on the Gold Coast with a true passion for everything marine. 
With a diverse set of skills across the team from commercial vessels to super yachts to tinnies we have you covered.