Meet The Team
Seatech Marine is the largest company on the Gold Coast's servicing, repowering  and repairing marine engines whether they be outboard, inboard, diesel or petrol.
Seatech Marine management team is highly  professional and qualified to ensure that any interaction with our team is a positive and productive experience.
Chris Exindaris – General Manager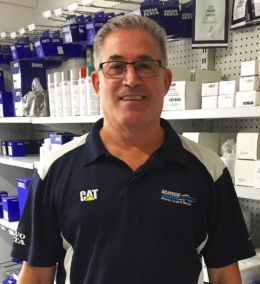 Chris (Master of Business Administration, BA Accountancy) is an experience General and Finance Manager with many years experience spanning across many industries mainly in the services sector and including companies such as BHP, George Weston Foods, The Modern Group, Herron Todd Whyte Property Valuers, EziPark Carpark Management Company and Hope Harbour Marina on the Gold Coast.
He is passionate about making your boating experience with Seatech Marine a pleasant one and  is keen to hear your feedback.  Email Chris.
---
Jonathon Miller – Service Manager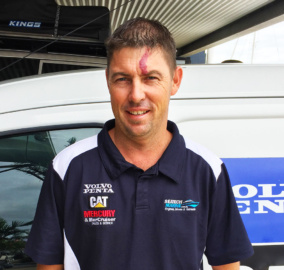 Jonathon Miller is a qualified Marine Mechanic with 23 years of Marine experience as a business owner, service manager and marine mechanic at a number of different marine companies. His business, staff and time management skills ensure customers receive efficient and accurate repairs/servicing.
Jonno is a factory trained technician for Yamaha, VOLVO and Mercruiser engines. He has a 12 Volt Electrical license and a possesses a wealth of experience in running busy workshops. He is lauded by his peers for his superior diagnostic skills and fault finding abilities. Customers find Jonno very approachable and down to earth due to his bubbly personality and ability to relay technical jargon in laymans terms.
We are confident that you will enjoy your Seatech Marine experience in Jonno's professional hands. Email Jonathon.
---
Jon Southall –  Spare Parts Manager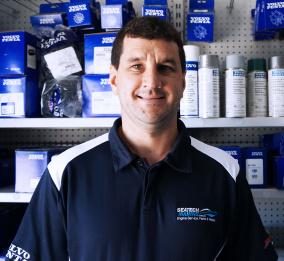 Jon is a highly experienced and accomplished Spare Parts Manager and Interpreter in Heavy Automotive  parts companies such as Brown & Hurley, Maxiparts and Hi-Way1 Trucks & Tractors.
His passion for all things boating is our gain as he effectively now combines his professional skills with his personal passion for boats. His hobby to get his hands dirty with his own boat  has given him a highly developed knowledge of marine mechanics and he looks forward to helping you with your parts needs. Email Jon.