Meet The Team
Seatech Marine is the largest company on the Gold Coast's servicing, repowering  and repairing marine engines whether they be outboard, inboard, diesel or petrol.
Seatech Marine management team is highly  professional and qualified to ensure that any interaction with our team is a positive and productive experience.
Chris Exindaris – General Manager
Chris (Master of Business Administration, BA Accountancy) is an experience General and Finance Manager with many years experience spanning across many industries mainly in the services sector and including companies such as BHP, George Weston Foods, The Modern Group, Herron Todd Whyte Property Valuers, EziPark Carpark Management Company and Hope Harbour Marina on the Gold Coast.
He is passionate about making your boating experience with Seatech Marine a pleasant one and  is keen to hear your feedback.  Email Chris.
---
Charles Koole – Operations Manager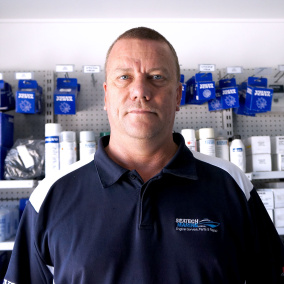 Charles Koole has close to 30 years experience in the Marine industry, encompassing everything from vessel  manufacturing  and  engineering through to general day to day servicing & repairs.
Having mechanical petrol and diesel, 240v electrical and metal manufacturing qualifications ensures that Charles has a wide and diverse knowledge base and  the ability to ensure all repairs / servicing are performed technically correct and efficiently.
Charles career has been based on exceptional customer service, so you will always have a pleasant Seatech experience and receive  courteous, friendly and knowledgeable advice. Email Charles.
---
Jon Southall –  Spare Parts Manager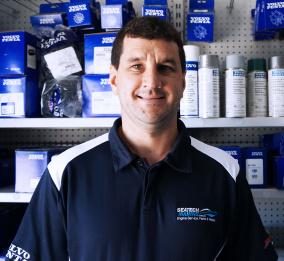 Jon is a highly experienced and accomplished Spare Parts Manager and Interpreter in Heavy Automotive  parts companies such as Brown & Hurley, Maxiparts and Hi-Way1 Trucks & Tractors.
His passion for all things boating is our gain as he effectively now combines his professional skills with his personal passion for boats. His hobby to get his hands dirty with his own boat  has given him a highly developed knowledge of marine mechanics and he looks forward to helping you with your parts needs. Email Jon.